Funeral Services in Haridwar
Specialized Funeral Planning Services in Haridwar
Haridwar is the holiest city and also oldest city in the world according to our vedic scriptures. These sacred writings are 3500 years ancient and are part of our sanatana dharma. After death performing final rituals at Haridwar is considered as more significant, and the life or soul will be revolving around the burning human remains and prayer. Everyday cremations and pind daan in kashi happen on the banks of the Ganges river. In both the Hindu afterlife, moksha is the end of the cycle of rebirth. To achieve moksha is to end suffering. It's freedom from death.
In Kashi Pind Pradan ritual is very famous and also it is considered as the process of reliving atma from the cycle of rebirth.
In Haridwar Anna Shradh has been performed to get the blessing of three generations –  Great grandfather, grandfather, father.
After collecting the ashes or asthi until doing the Visarjan in the sacred river there are some rituals that have to be performed.
Shradh ritual which is performed on the First death anniversary of the deceased souls will be called as Samvatsarikam.
Perform Abdikam and other aparakarya rituals in Haridwar with Anthyesti's best pandiths for maximum benefits.
If your planning to perform aparakarya and Goudaan Puja rituals in Haridwar just call Anthyesti and book all the services.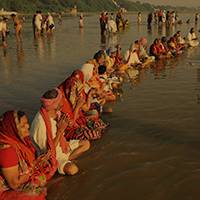 Why people prefer to perform shraddha rituals in Haridwar is because performing shraddha rituals in sacred places will give more benefits.
Brahmin Bojana is also believed as through this ritual it will be easy for the departed soul to go through further process
It cannot be a comfortable experience to lose a loved one. It is a long grieving process, which usually has the funeral proceedings involved.
What is the pitra-rin or the 'parental debt?
While the upbringing of a child, parents put their heart and soul. Parents will take care of their children with great care and love. So, it's every son/daughter's responsibility to repay their debt. And also it is important to take good care of parents when they get old. After their death, it's child's duty to perform their last rites/ Anthyesti Sanskar as per the Ritual Shradh, Pind Daan in Varanasi, Pitra Dosh Nivaran Puja in Varanasi has to be performed for the spiritual progress of the departed souls.
What is Dev-Rin or the 'debt towards deities?
Different goddesses provide us with water, food, air, fire and provide us with many other essentials of life, these things are important for us to live a normal physical life. To be relieve ourselves from the sins we have commited, we need to dhan/ donate items of sustenance to the poor one. Devakaryas in Varanasi rituals are to be performed to satisfy deities for helping us to lead a good meaningful life.
What is Rishi-Rin or 'debt towards sages?
It is a major necessity towards the sages who assist us with spiritual knowledge, the Priest/ pandiths who translated the mantras for us, they are teachers who made us educated by their training. However, this debt is paid back by propagating the acquired knowledge or traditions to as many people as possible in the realm of matter or spirit.
What is Brahma-Rin or 'debt towards God?
To pay back the debt of being born as a human being on this earth, all that the God asks of us is to come back to Him with the mentality that he sent us with –clean, peace and free of any negativity. It teaches us not to acquire any negative karma bonds and to cut down already presenting negativeness in our lives. So, in order to attain the stage where we can pay back God's debt by returning to him, with the soul in natural condition.
In order to complete one's duties or pay back the debts, a person must perform hindu rituals with the best pandits for pitru karyas in varanasi, devakaryas, Brahman Bhoj, Annadananam, Sadhu Bhojan and other dhan/ donation for the goodwill of family, self and society as a whole.
What is the process for pind daanam in Varanasi?
The Process of Pind daan in varanasi will start after taking bath at the Ganga river. According to the deceased person's culture pind daan will be performed. In general the person who performs pind daan has to wear white holy clothes like traditional dhotis and kurta. While doing pind daan the offerings will include Rice, Sweets, jaggery etc. experienced Brahmin pandits will assist with mantras to complete the Procedure.
What is the process for asthi visarjanam in Varanasi?
Varanasi is a holy place, where our holiest river Ganga flowers around the banks of Kashi/ Varanasi. In Varanasi Asthis offered in the holy River Ganga, it will help the departed soul to attain freedom from the cycle of rebirth, and to achieve peace. Asthi Visarjan at Varanasi is a very important religious process. Asthi is nothing but leftover bone or some collected ashes of deceased persons. After completing last rites/ Anthyesti karya are performed the Asthi has been collected. Asthi will be collected in a piece of cloth. At the end Ashti visarjanam, immersed ashes will flow in Ganga river. This complete process of immersion is called "Asthi visarjan". Mainly Asthi Visarjan should always be performed in a recommende manner as specified in our scriptures. The soul feels hurt if the Asthi Visarjan is not performed as specified in the scriptures.
What is the tarpan or pitru pooja?
Tarpan puja for God will be performed by facing East and that for departed ancestors' souls it should be done by facing South. Tarpan pooja will be performed by memorizing the ancestors with their names. Along with the chanting of mantras, one offers milk, black sesame seeds and water. While performing tarpan puja, a person should wear a white dhoti and angavastram and sit facing the East. Brass, copper or silver pancha patra should be used to perform the tarpan rituals. Begin the rituals by doing the Achaman means taking water from the pancha patra and putting it on your palm and drinking it.
What is pitru paksha and its importance?
The Pitru Paksha process is nothing but to pay back honor to the dead relatives, pleasing them, asking for forgiveness, and eliminating oneself of the Pitru Dosha or the curse of ancestors. While doing pitru paksha one should know about all the rules dos & don'ts. The Pitru Paksha process is important and it will take 16-day long periods in the Hindu calendar.
What are the various types of shraadh and why should it be done?
As per the purana in Ashwin month, God of death "yamraj" give the freedom to all the souls. So in that time all the souls can accept the food given by the childrens on the day of Shradh. And these 16 days are precious to perform shradh, tarpon for our father or ancestors every year. Tarpan in PitruPaksha is nothing but honoring and remembering our ancestors
As per the Hindu holy book, 12 types of Shradha are there.
Types of Shradh
1. NityaShradh
2. NeimitikShradh
3. KaamyaShradh
4. VriddhiShradh
5. SapindanShradh
6. PaarvannShradh
7. GoshtthShradh
8. ShurdhyarthShradh
9. KarmaangShradh
10. DeivikShradh
11. OupcharikShradh
12. SaanvatsarikShradh
What is the importance of Brahman Bhojanam in Varanasi?
In Hindu culture, Brahman bhoj is important. Mainly this puja is performed after completing Pind Daan for the deceased departed soul in Varanasi to satisfy the aspiration of the souls of our forefathers/ ancestors and help them to achieve peace. Mainly this Brahman Bhoj is the way to cleanse all the sins or bad karma of our ancestors/forefathers and satisfy their souls with peace and prosperity.