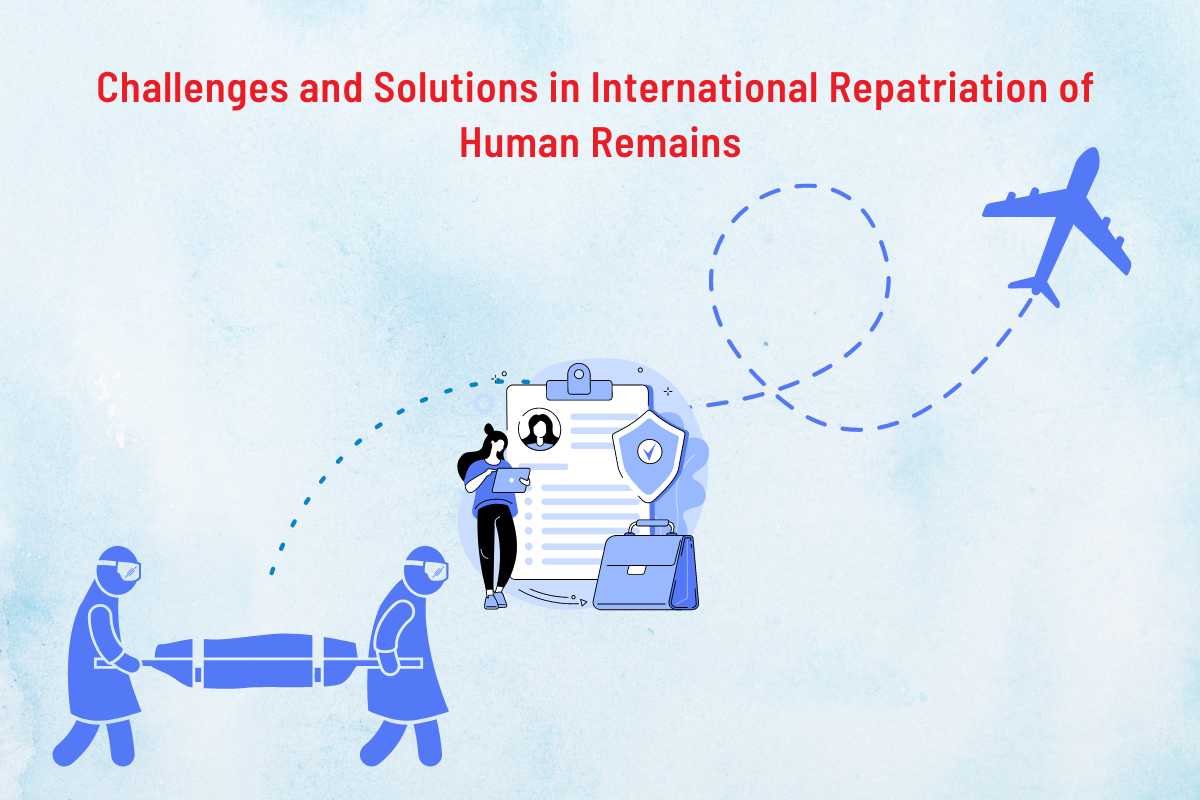 Challenges and Solutions in International Repatriation of Human Remains
Introduction:
 Losing a loved one is an emotionally challenging experience, and when that loss occurs in a foreign country, the process of bringing the deceased back home becomes even more complex. International repatriation of human remains involves a myriad of legal, logistical, and cultural challenges that must be addressed with utmost sensitivity and professionalism. In this blog post, we will explore the challenges faced in the repatriation process and highlight some possible solutions, emphasizing the crucial role played by Anthyesti Funeral Services in facilitating this difficult journey.
Legal and Documentation Challenges
When repatriating human remains across international borders, one of the primary challenges is dealing with complex legal requirements and documentation. Each country has its own set of regulations regarding the transportation and importation of human remains, which must be carefully adhered to. This includes obtaining death certificates, embalming certificates, permits for transportation, and potentially navigating through bureaucratic procedures. Anthyesti Funeral Services understands these legal intricacies and can provide valuable guidance to ensure compliance with all necessary regulations.
Cultural and Religious Sensitivities
Cultural and religious considerations play a significant role in the repatriation process. Funeral customs, burial rituals, and mourning practices vary greatly between countries and belief systems. Anthyesti Funeral Services recognizes the importance of respecting these cultural sensitivities and works closely with families and local communities to honor the deceased's traditions. By providing a sensitive and culturally aware approach, they assist in arranging appropriate ceremonies and repatriation logistics that align with the family's wishes.
Transportation and Logistics
The transportation of human remains across international borders requires meticulous planning and coordination. This includes arranging for appropriate caskets, coordinating flights, obtaining necessary permits, and adhering to customs and quarantine regulations. Anthyesti Funeral Services has the expertise and network to handle these logistical challenges efficiently. They work closely with airlines, embassies, and local authorities to ensure a smooth and timely repatriation process, taking care of all necessary arrangements to bring the deceased home.
Language and Communication Barriers
 Navigating through a foreign language and communicating effectively with local authorities can be daunting for grieving families. Anthyesti Funeral Services has a team of multilingual professionals who can bridge these communication gaps. Their ability to speak the local language, coupled with their experience in dealing with international repatriation, helps streamline the process and ensure accurate and efficient communication between all parties involved.
Emotional Support and Guidance
Beyond the practical challenges, families dealing with the repatriation of human remains also require emotional support and guidance. The team at Anthyesti Funeral Services understands the delicate nature of this process and provides compassionate assistance throughout. They offer bereavement counselling, guidance on funeral arrangements, and personalized support tailored to the needs of each family, alleviating some of the emotional burdens during a difficult time.
Conclusion:
The international repatriation of human remains involves numerous challenges, including legal complexities, cultural sensitivities, logistical arrangements, language barriers, and emotional support. Anthyesti Funeral Services recognizes these challenges and strives to provide comprehensive solutions to families dealing with the repatriation process. With their expertise, cultural awareness, and compassionate approach, Anthyesti Funeral Services aims to ease the burden on grieving families and ensure a dignified and respectful journey for their loved ones.