MAHALAYA PITRU PAKSHA SHRADH 2023
Enquire Now - Anna Shradha f
"Anthyesti Funeral Services: Honoring the Departed with Mahalaya Pitru Paksha Shradh 2023"
Introduction: In the rich tapestry of Indian culture, traditions hold a special place. One such tradition that embodies the essence of reverence for ancestors is the Mahalaya Pitru Paksha Shradh. This sacred ritual allows families to pay homage to their departed loved ones and seek blessings for their eternal peace. Anthyesti Funeral Services, a trusted name in funeral and ritual services, is here to help you make this year's Shradh a meaningful and memorable experience.
Keywords: Mahalaya Pitru Paksha Shradh, ancestral spirits, customs, 2023, Significance of Pitru Paksha, ancestral blessings, spiritual purification, Pitru Paksha customs, Tarpan, Pind Daan, feeding Brahmins, dates, pandemic precautions
| | | Mahalaya Pitru Paksha Shradh2023 Thithi |
| --- | --- | --- |
| | | |
| | | |
| | | |
| | | Tritiya Shradh / (Triteeya) Thithi /Teej Shradh |
| | | Chaturthi / Chaturthee / Chauth Shradh / Maha Bharani Shraddh |
| | | Panchami / Kumara Panchami/ Kunwara Panchamee Shradh |
| | | Shashthi Shradh / Chhath Shradh |
| | | Saptami / Saptamee Shradh |
| | | Ashtami / Ashtamee Shradh Vyatipata Mahalaya |
| | | Matra Navami Navami / Avidhava Navami / Naumi Shradh |
| | | |
| | | Ekadashi /Yekadashi / Gyaras Shraddha |
| | | Dwadashi / Yati Dwadashi /Baras Shraddha |
| | | Trayodashi Teras Shraddha Magha Trayodashi Shradh |
| | | Chaturdashi / Ghat Chaturdashi Shraddha / Ghayal Chaturdashi Shradh |
| | | Mahalaya Amavasya / Sarva Pitri Amavasya |
Understanding Mahalaya Pitru Paksha Shradh
Mahalaya Pitru Paksha Shradh, also known as Pitru Paksha, is a 16-day period in the Hindu lunar calendar that is dedicated to paying homage to one's ancestors. It typically falls in the Hindu month of Bhadrapada (September-October) during the waning moon phase.

The Significance of Mahalaya Pitru Paksha Shradh: Mahalaya Pitru Paksha Shradh is a 16-day period dedicated to performing rituals for the departed souls of our ancestors. It typically falls in September-October and holds immense importance in Hinduism. During this time, it is believed that the souls of the departed ancestors come closer to Earth, and performing Shradh rituals helps pacify their souls and bestow blessings upon the living.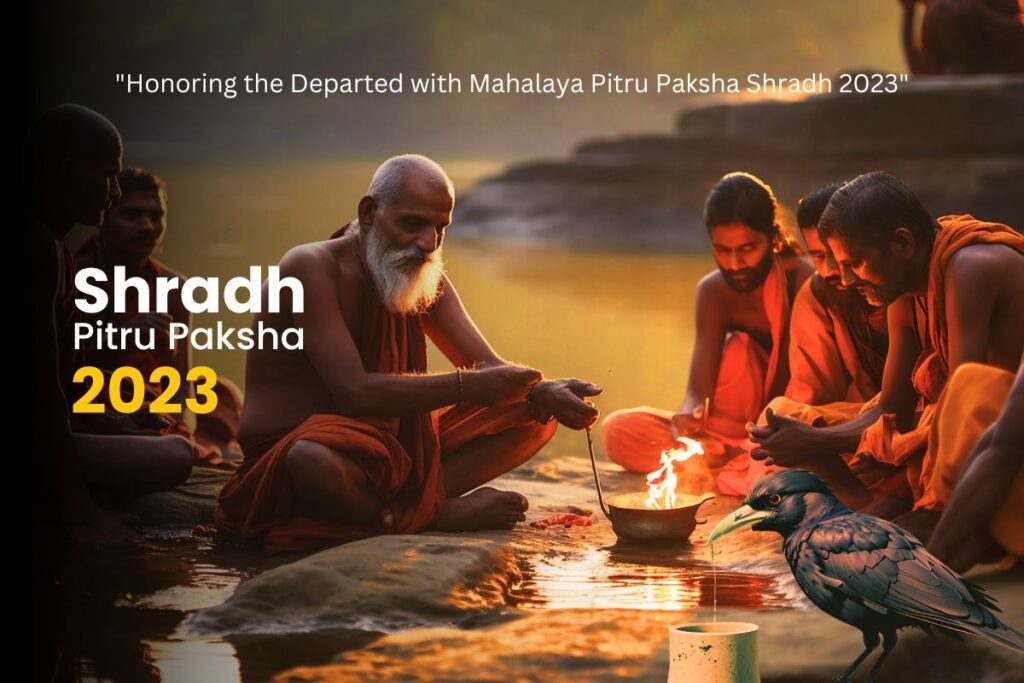 Pitru Paksha is marked by various customs and rituals:
Tarpan: The most common ritual involves offering water and sesame seeds (til) to ancestors while reciting their names. This is known as Tarpan.
Pind Daan: Pind Daan involves offering rice balls to the departed souls. It is believed to help the spirits move closer to liberation.
Feeding Brahmins: Feeding Brahmins and the needy is considered an auspicious practice during Pitru Paksha, as it is believed to bring blessings from the ancestors.
Avoiding New Ventures: It is customary to refrain from starting new ventures or buying new property during this period as it is considered inauspicious.
Observing Mahalaya Pitru Paksha Shradh in 2023
In 2023, Mahalaya Pitru Paksha Shradh will commence on September 27th and conclude on October 11th. As we continue to navigate the challenges posed by the pandemic, it's essential to adapt our rituals to ensure safety. Here are some ways to observe Pitru Paksha in 2023:
Online Rituals: Consider participating in virtual ceremonies and offerings if visiting temples or priests is not feasible.
Home-Based Rituals: Perform the Tarpan and Pind Daan rituals at home with your family members, keeping safety measures in mind.
Charitable Acts: Donate to charitable organizations or feed the needy as a way of honouring your ancestors' memory.
Why Choose Anthyesti Funeral Services:
Anthyesti Funeral Services is a trusted name in providing end-to-end funeral and ritual services across India. Our experienced team of Vedic Pandits and support staff understand the cultural nuances and customs of various regions, ensuring that every ritual is conducted with utmost authenticity and respect.
Locations We Serve:
Gaya: Gaya is renowned for the Pind Daan ritual, a crucial aspect of Shradh. Our experts in Gaya ensure the proper performance of this ritual to honor your ancestors.
Gokarna: A place steeped in spiritual significance, Gokarna is an ideal destination to perform Shradh rituals by the serene beaches.
Rameswaram: Known for its sacred temples, Rameswaram offers a tranquil setting to conduct Shradh rituals and seek blessings.
Haridwar: Nestled on the banks of the holy Ganges, Haridwar is another revered location for performing Shradh ceremonies.
Trimbkeshwar: This sacred town in Maharashtra is home to the revered Trimbkeshwar Temple and is an excellent place to perform Shradh rituals.
Vedic Pandits: Our team of experienced and knowledgeable Vedic Pandits ensures that every aspect of the Shradh ritual is conducted meticulously.
Customized Rituals: We understand that different families have unique requirements. Our services can be tailored to suit your specific needs and customs.
Documentation Assistance: We assist you in all the necessary paperwork and documentation required for Shradh rituals.
Transport and Accommodation: From transportation to accommodation, we take care of all logistical aspects, so you can focus on the rituals.
Mahalaya Pitru Paksha Shradh is a time to connect with our roots and show our respect to the departed souls. Anthyesti Funeral Services is your trusted partner in ensuring that these rituals are performed with authenticity and devotion. Let us help you make this year's Shradh a meaningful and spiritually enriching experience. Contact us today to book Vedic Pandits and plan the perfect Shradh ceremony at the location of your choice.