Software engineer turned funeral services planner notches up a turnover of Rs 16 lakh in just over a year
Death is grim business, but Shruthi Reddy Sethi, a young, enthusiastic software engineer in Kolkata has made it her business to make it easier for those left behind. With her uniquely focused services, in just over a year, her company Anthyesti has notched up a turnover of Rs 16 lakh. Shruthi's work begins in the aftermath of a life sadly ending. "Once we get a call," she explains, "we first arrange for the hearse van and also ask if there is any need for preservation, such as a freezer box.
"After the hearse van moves to the crematorium, we assist the family to procure the KMC (Kolkata Municipal Corporation) death certificate if they seek our help. We then offer them our priest package if they want."
Her company – Anthyesti – offers well-organized and efficient post-demise packages such as VIP hearse services, mobile freezer or embalming, repatriation of remains, and Shraadhs (a ritual to pay homage to the deceased in the family) for communities such as the Arya Samaj, Gujaratis, Marwaris and Bengalis. These services range from Rs 2,500 to Rs one lakh.
Yes, that's right, Shruthi Reddy Sethi, 32, is a funeral services planner – officially the first such company in this sector in Kolkata.
"I first shared the idea of setting up a company that provides cremation and funeral services, with my husband," she says. He promised to support her.
"But my parents," she adds, "especially my mother, were very upset and said that this kind of 'ignominious' work was an insult for an IT engineer. She didn't talk to me for a month!"
Shruthi had moved to Kolkata in 2015 to be with her husband who had shifted there with his job. Originally from Hyderabad, where she completed all her education, she was the older of the two siblings, with a brother.
Her father worked as an electrical engineer in Electronics Corporation of India Limited (ECIL), while her mother sold saris from the home to supplement the family's income. Shruthi studied in Sai Public School till Class 10, after which she joined Little Flower Junior College in 2002.
By 2006 she had completed a degree in engineering from Bhoj Reddy Engineering College and she left her home town. "I joined an IT company in Bengaluru as a junior programmer," she says, "and moved back to Hyderabad with another IT job in 2011."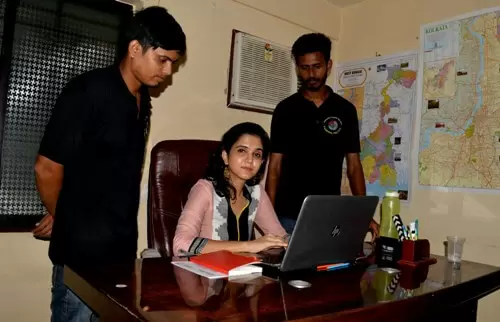 In 2009, she got married to Gurvinder Singh Sethi who worked in Tata Motors in Hyderabad. "Life was moving smoothly till my husband was transferred to Kolkata in 2011," says Shruthi. Her employers let her work from home at first, but in 2015 when they asked her to move back to Hyderabad, she resigned.
Shruthi had to plan her next step. "I wanted to do my MBA as I thought it would help me set up my business," she recounts.
"With a view to joining one of the year-long executive programs in IIM and other reputed B-schools, I took the GMAT exam and cleared it."
She got admission offers from IIM-Indore and IIM-Lucknow. She was about to get enrolled in one of them, when Siddharth Churiwal, a businessman friend, suggested: 'Rather than spend that money on a degree, use it for bootstrapping your business. Have faith and you will find everything else on the way up.'
His advice took seed, even though Shruthi had no idea of the nitty-gritty and formalities of entrepreneurship.
"The concept of a funeral service start-up was subconsciously in my mind," she recalls, "as I saw my husband facing a lot of problems at the death of his maternal grandfather in 2014 – making all the arrangements for cremation and prayers meant that he didn't have time to grieve with his family."
So that's how she started setting up a company geared to efficiently and sensitively taking care of every aspect relating to the processes and ceremonies following a death, starting from embalming human remains to the conclusion of all rituals.
She had the business logic for it. "There is a large population of single old people in Kolkata," she explains. "There are many people who live all by themselves. They would be more than happy to find someone to help in their last moments."
In order to gain knowledge of the market and costs, Shruthi began to visit crematoriums, find out about the number of deaths every day, research charges for hearse vans, mortuaries, priests and pujas.
People working in this male-dominated sector were mostly uneducated, and many were drunkards. "My friends and family thought that I had lost my mind as I was busy with the dead throughout the day," Shruthi says. "It was very tough."
Finally, Shruthi started Anthyesti Funeral Services Private Limited on 19 February, 2016, with an investment of Rs one lakh, which she borrowed from her husband.
She is the founder-director of the company with 99 percent shares, while her mother, Suhasini Reddy – who came around to support her daughter – is the other director with one percent share. "It took me days before I zeroed in on the name Anthyesti, which means funeral rites in Sanskrit," Shruti shares.
The company started with two employees in a rented office space of around 1,000 sq. ft. The concept was new to Kolkata and while Shruthi invested in marketing, the gradual increase in her business was mainly due to word-of-mouth publicity. "There were no sudden breakthrough moments," she says.
"I built contacts with hearse van drivers and priests to be paid on a case-to-case basis," she explains. "We got enlisted on Justdial in April 2015, from where I started getting calls for funeral services."
But people normally called for the hearse van and not for cremation or performance of last rites. Shruthi found a solution and purchased two freezer boxes in June 2016 and an air-conditioned hearse van with an investment of around Rs seven lakh.
Now, bookings for Anthyesti's can be made on the phone or online. The company now has six employees, receives around 35 orders every month, and its turnover has touched Rs 16 lakh in just over a year.
Wait there is more – with an eye on the future.
Anthyesti also offers services for pre-planning funeral service packages – ranging from Rs 6,000 to Rs 20,000 – for those who live alone. "Pre-death packages are an assurance to such clients that, should something happen to them all of a sudden, we are there to carry out the last rites," says Shruthi. "Our legal agreements for this are prepared and vetted by experienced lawyers."
Anthyesti is filling a much-felt gap. "Death is a crucial part of life and it needs to be served with professionalism, poise and dignity," says Shruthi. "Staying calm, sensitive and empathetic is what I and my team focus on."
Shruthi plans to expand and scale up through the franchising model by 2020. She feels her experience has taught her the value of money and the fact that death is the only truth in life.
"Make your presence on earth worthwhile so that you can benefit mankind," this mother of a four-year-old son says wisely. She also shares her mantra for women entrepreneurs: "Have belief and never underestimate yourself. Small things will take care of themselves when you aim big."